Every type of business can benefit from having a Facebook Page. Whether you run an online business, own a small business, or you're in charge of a major corporate brand, having some sort of social media presence is a major way to connect with your target market. Of all the social media channels out there, Facebook's outstanding statistics prove that this is the platform to be on.
If you're a business owner who has been putting off your Facebook Page, keep reading. This post will show you why you can't wait another minute to create your Facebook business Page.
Why Should Businesses Spend Their Efforts on Facebook?
Maybe you're overwhelmed by the social media options out there and neglect it altogether. Maybe you're a beginning artist or freelancer, wondering if it's worth it when you start with a small fan base. No matter your audience size, creating a Facebook business Page is worth it. Here's why.
Facebook is the most widely used social media channel today. Having almost 1.75 billion daily active users, Facebook reaches the largest blend of demographics. No matter what industry you're in, you can reach your niche market on Facebook.

Not only can you reach a larger audience with your Facebook Business Page, but the channel has several features that allow for a better connection with your target market. Here are 5 reasons to create a Facebook business Page:
1. Increase Brand Awareness
By posting consistently on your Facebook Page, you're allowing several people to see your business' message on a regular basis. People become more familiar with your brand and begin to see you as a source of information. Users also have the ability to share your content with their friends, therefore increasing your overall reach and extending your brand awareness.
2. Understand Your Customers Better
Your Facebook business Page can help you learn more about your target market. It can serve as a digital focus group that allows you to get feedback from the people interested in your product or service. This ultimately helps you to create more products that serve their needs.
Every Facebook Page has the added benefit of the Facebook Insights feature. Use Facebook Insights to see what types of content resonate best with your audience and continue to give them more content they love.
3. Tell Your Brand's Story
Storytelling is key in marketing. Consumers become loyal customers when they can empathize with or relate to a company's story. Your Facebook Page is a place to share more human details of the business.
Share behind-the-scenes details, feature an employee, or share your company's origin story. Show how you personally benefit from using your company's products. Explain what you love most about the job.
All of these things help humanize your business, allowing customers to make more personal connections with your brand.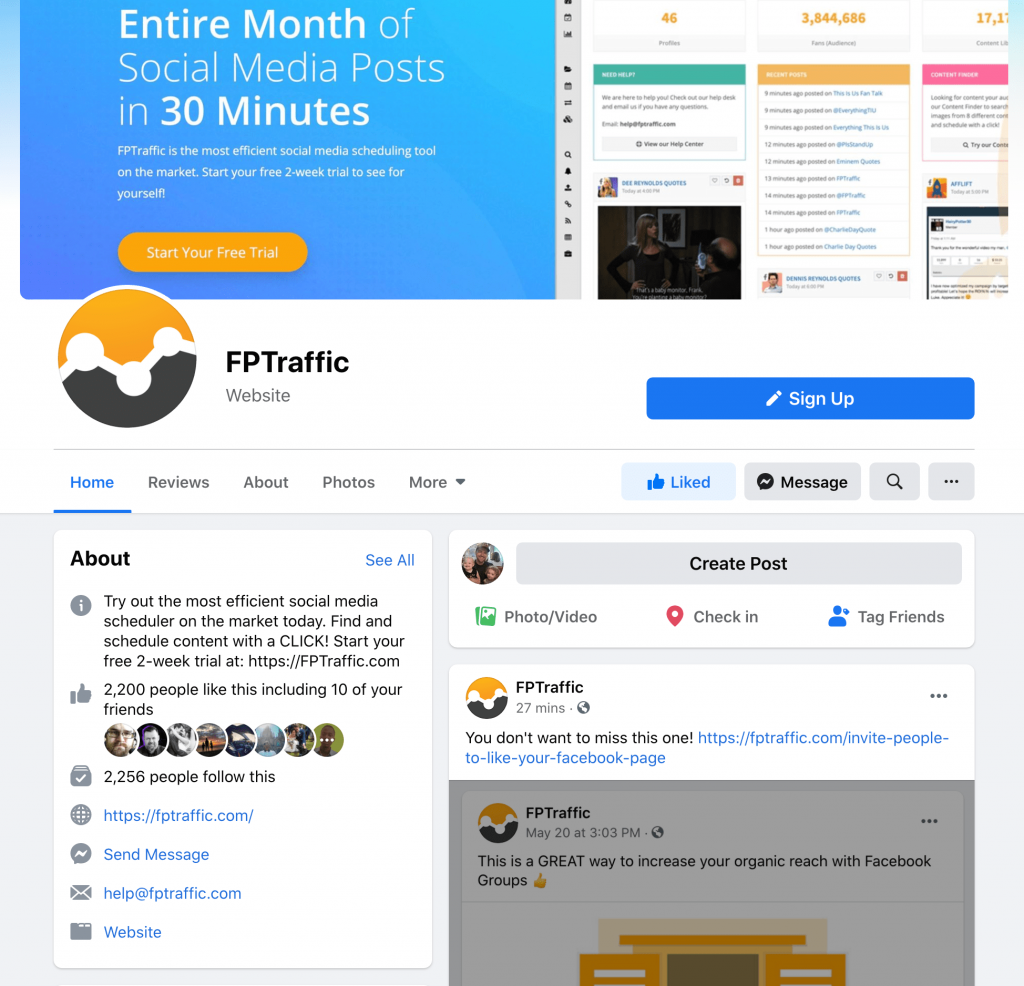 (our FPTraffic Business Facebook Page)
4. Your Competition has a Facebook Business Page
Sure, you want to "zig" where your competition is "zagging," but not being on Facebook can cost you opportunities. Your competition is no doubt already on Facebook. Find a way to stand out in your social media presence. Use your Facebook Page to separate your brand from the competition.
5. Increase Website Traffic
Your Facebook Page can be a tool to drive more traffic to your business' website. Publishing consistently on a Facebook business Page can give you a boost in Search Engine Optimization (SEO), allowing more people to find your website organically. You can also funnel fans of your Facebook Business Page through to your website with a CTA button and links to your business' blog.
Manage your Business Page with FPTraffic
FPTraffic makes it easy to find and schedule content for your Facebook Business Page!
Give us a try
with our free 2-week trial today!
Use Your Facebook Business Page Effectively
In addition to increasing brand awareness, Facebook Pages make many aspects of your business easier to manage. With a Facebook Business Page, you have the ability to:
Post job descriptions
Create sponsored messages
Create special offers
We've got plenty of resources to help you build a strong presence with your Facebook Business Page. Start with our Facebook Page Tips, or check out one of the following posts:
Do you have a Facebook business Page? How has it helped in your business? Share your success story by leaving a comment!