Did Facebook copy Stories from Snapchat? Maybe, but at this point, every social media platform has stories! So, you have to ask yourself, why would every platform have stories?
Facebook (and all the other social media networks) have all added stories because users love to use them!
So, the real question becomes, how can you use stories to get engagement from your own social media audience?
You can post a story from your Facebook Page! Whether it's a fan page or business page, you have the ability to post a story from it just like any normal user.
Below, we will explain how you can post a story from your Facebook Page. SPOILER ALERT: it's very easy 😃
How to Post a Story on a Facebook Page
You can easily share a video or photo to your Page's story by following the 5 steps below.
Important: you can only post stories on Facebook to a Page from the Facebook app for iOS or Android. You cannot post a story from your desktop computer!
Go to your Facebook Page and click on your profile picture.
Click on Create Story.

Select the photo or video that you want to post to your Facebook Page story.
Add any stickers, text, music, effects, or animations you want to make your story stand out.
Click Done and click Share to Story to publish your story as your Facebook Page!
That's it. Facebook will post your story on your Facebook Page and it will show up in your fans story feed.
If you are not already testing posting stories from your Facebook page, whether it's a fan page for entertainment purposes or a business page to try to get yourself new customers, you should give it a try!
Make sure to post in the comments below and let us know how it goes 👍
Oh, and here is an example from the FPTraffic Facebook Page.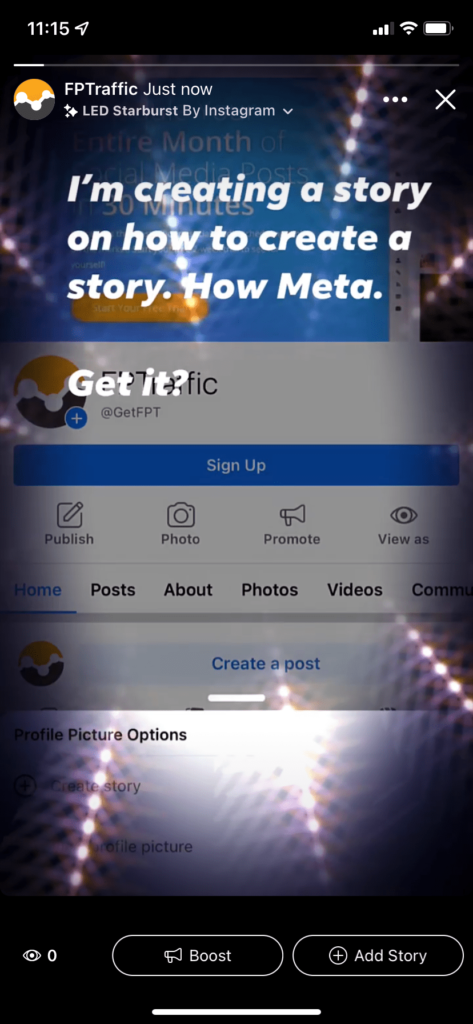 More Facebook Page Tips 👇