Are you getting bombarded with notifications for your Facebook Pages? Do you find it hard to focus on your Page when your personal notifications keep coming in?
There's an app for that!
As your Pages grow, you'll get tons of notifications with the likes and engagements happening on them. You'll need to interact with and respond to your fans, and that can get messy when you're logged into your personal account. Birthday notifications, friend requests, the links your mom keeps sharing on your timeline – they can all get in the way of interacting with your Page's fans. You might find yourself sounding like all the others who complain that Facebook is a distraction – except in your unique case, Facebook is distracting you from…Facebook!
The Facebook Pages Manager app, available in the iOS and Android app store, gives you a separate space to manage your Pages. It allows you to stay informed of what's happening on your Page while you're on the go. Page activity builds up quickly once you build an audience, so it's helpful to keep up with activity throughout the day.
Keep reading to learn how the Facebook Page Manager app helps you stay sane while managing your Facebook Pages.
Access Multiple Pages with the Facebook Page Manager App
The Facebook Pages Manager app is set up much like the Facebook app, except when you log in, you only have the ability to work with your Pages. You cannot access your personal timeline and notifications from the Facebook Page app. It's more focused on managing, updating and tracking Pages.
When you log in, you can choose from your list of Pages – the app allows you to access up to 50 Pages. Click on the Page you'd like to work from and you're taken to your timeline. You can then interact with fans, create a new post or share a photo.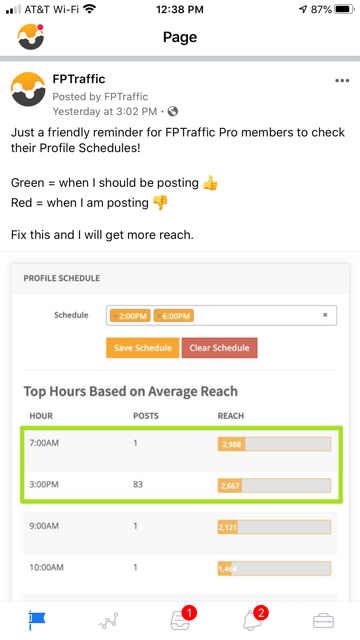 You can access much of your Page's back end in the app. View your Page Insights to see which posts are most popular. Check your ad results to see the progress of your promotions. You can also boost posts using the app.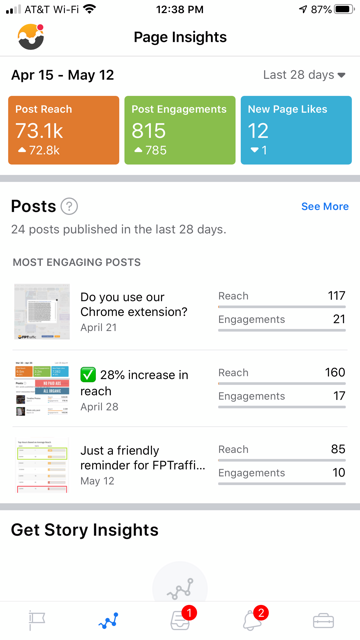 Pages Manager App Features
In addition to posting, viewing your Insights and tracking your ad results, the Facebook Pages Manager app allows you to do the following:
View and reply to messages
Monitor engagement
Create events
Tag Pages in posts
Tag people in comments
Use hashtags
Add admins to your Page
Overall, the app offers a way for you to effectively manage your Facebook Pages on the go. This is especially helpful if you run a storefront or sell products through your Page and you need to respond to customer questions frequently. You can answer questions and interact efficiently with the ease of the app.
Pages Manager also allows you to focus only on your Page by limiting the distractions of your personal Facebook account. Your Page notifications won't get lost in the long list of your friends and Groups notifications.
If you're looking for an easy way to monitor your Page while you're out and about, the Pages Manager app is a great solution.
Do you use the Facebook Pages Manager app? What do you like most about it? Let us know by leaving a comment!
For even more efficient Facebook Page managing, get started with FPTraffic!