Images, videos, memes, gifs – constantly varying up the content you share on your social media profiles is a great practice to keep your audience engaged. But do you know the type of content that can boost your likeability for appearing at the top of users' News Feeds?
Website links.
Facebook and other social meid platforms are constantly making changes to their algorithm that decides what posts from Profiles show up at the top of its users News Feeds. Recently there has been a large increase in the reach for website links. With so many great websites out there sharing information, it's easy to find great links in almost any niche.
Opportunities are endless when it comes to sharing website links. For any niche, you can link to a news website, a popular blog or a well-known forum. New content is being created every day in several niches – take advantage of what's out there by sharing your favorite websites with your audience!
The images and videos you're posting still get good reach, but it's always good to mix up the content. FPTraffic makes it easy to schedule and post website links to your Profiles. Keep reading to learn how to schedule links through our Bulk Import tool.
Bulk Import Link URLs in FPTraffic
Sharing website links allows you to drive fans to a site you own or to other sites that you believe would be valuable or educational to your fans. To schedule website links to your social media profiles, complete the following steps:
Log into your FPTraffic account. From the Content menu on the left, click Add URLs.

Select the Profile you'd like to schedule website links to.
Copy and paste website link URLs into the box below. Enter one link per line. You can enter up to 500 links at a time.
Click Schedule URLs and your post will be created and added to your Profile's scheduled posts.
Go to your Scheduled Posts for the Profile you scheduled the links for and you will see your links in the queue. Add descriptions and emojis to your links, and move the posts around in your schedule as you like. You can also preview the link, add a Call To Action button, and add the first comment.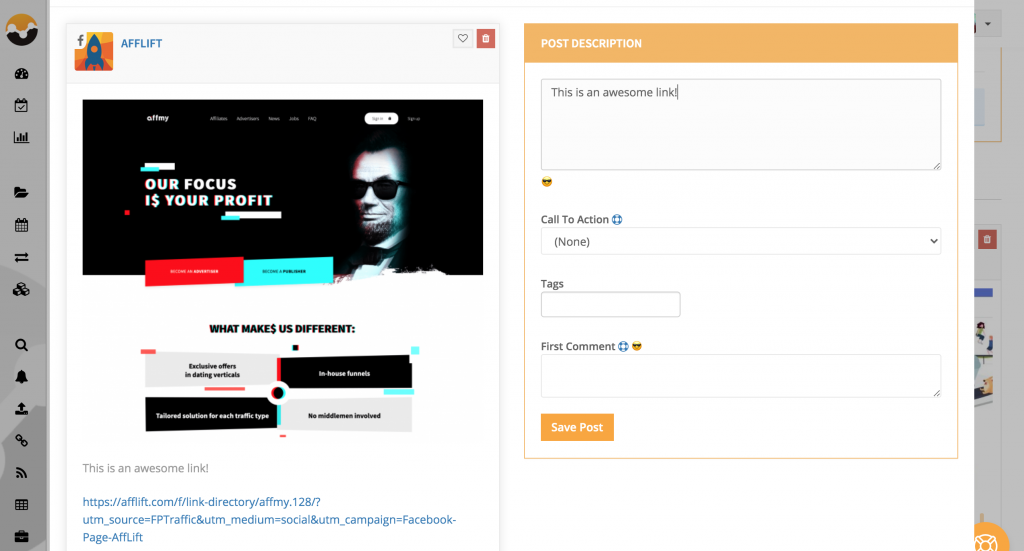 Your link will be automatically posted from your queue to your social media profiles at the scheduled date and time. It will show as a link on your social media profile with a preview image gathered by Facebook or Twitter automatically.
Website links are a great way to vary up the content you share with your social media fans. Sharing links to sites you find valuable will help you gain trust from your fans and keep them engaged in your content. You can also post links to a site you own to funnel traffic off Facebook, Twitter, or whatever social media site you are posting to. Share a healthy mix of links to outside resources as well as your own site so as not to lose fans.
Have you used the Link URL feature? How do your fans react to website links? Let us know by leaving a comment!