Did you know you can add Call-to-Action buttons to your Facebook Page posts? Most people think you can only add Call-to-Action buttons to Facebook ads, but you can now also add them to any link you have scheduled with FPTraffic!
We've integrated Facebook Call-to-Action buttons in our platform so you can easily add any of the following buttons:
Learn More
Shop Now
Sign Up
Save
Watch Video
Open Link
Add To Cart
Order Now
Subscribe
Buy
Facebook has a few special button types that I will explain below, but most of them will lead the user directly to whatever link you have scheduled via FPTraffic.
Here is an example: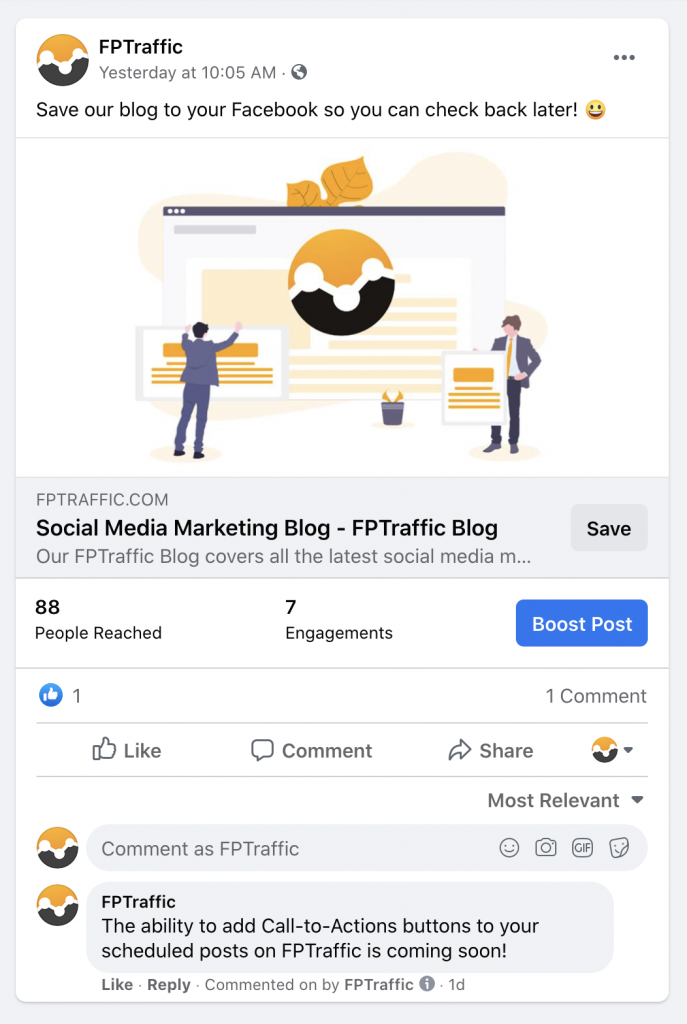 Special Call-to-Action Facebook Post Buttons
The example above is what we call a "special" call-to-action button because when the user clicks Save, the link is saved into the user's "Saved" links on their Facebook account where they can view it later.
However, if the user clicks the preview image for the link, they will be sent to the FPTraffic blog as expected.
There are other special Call-to-Action buttons that we will be integrating into FPTraffic soon.
Add CTA Buttons to Your Posts
Increasing Click-through Rates with CTA Buttons
Most of the Call-to-Action buttons available are specifically to help increase your click-through rate (CTR) on your link posts.
By adding the button with a specific CTA (like Watch Video), you are more likely to see people clicking the link to actually watch the video you posted.
Adding Call-to-Action Buttons to Your FPTraffic Post
Adding the Call-to-Action buttons to your posts within FPTraffic is very simple and is available on any link you have scheduled.
Simply go to your Scheduled Posts and click on the Edit button for any link you have scheduled.
You will see the Call To Action option below the description: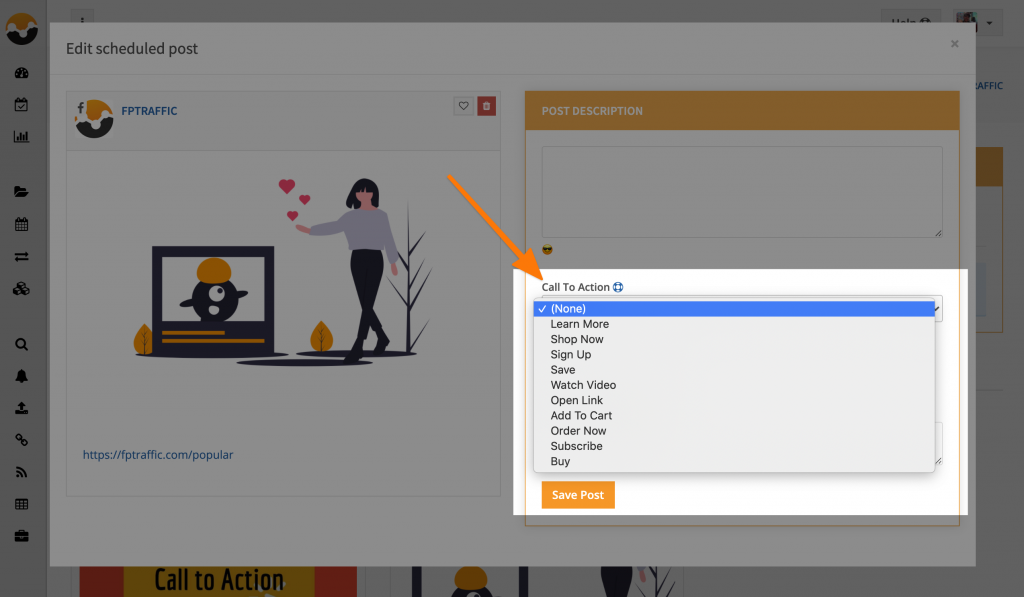 Simply select the button you want to use and save your post. We will automatically add the button to that link when it is posted to your Facebook Page.
IMPORTANT: Facebook has not added the ability to add CTA buttons to Groups and Twitter does not support it either. So, the CTA button will only show on your Facebook Page posts.
Try adding a Call-to-Action button to a few of your link posts and see how it performs! Let us know if you have any questions.