Looking for more engagement with your Facebook Page posts? Use emojis! Whether you love them or hate them, emojis can significantly help increase engagement.
Facebook, Twitter, Pinterest, even your own text messages–everything is moving toward a more visual media full of faces, expressions and symbols. Emojis are a visual way to communicate the mood or meaning of a message across social media platforms.
Not only are they fun to use, but including these friendly faces in your social media posts can increase your engagement, comments, shares and reach. With just a few extra clicks, your post engagement and sales can see significant increases so why not include them?
How to Add Emojis to Your Scheduled Posts in FPTraffic
You can easily add emojis to any post scheduled with FPTraffic simply by clicking on the description of any post.
Click on the post description or click the link to add one and the Edit Post window will pop up.
You can add emojis to the description and the first comment. In the bottom-left corner, click the 😎 smiley face to select an emoji.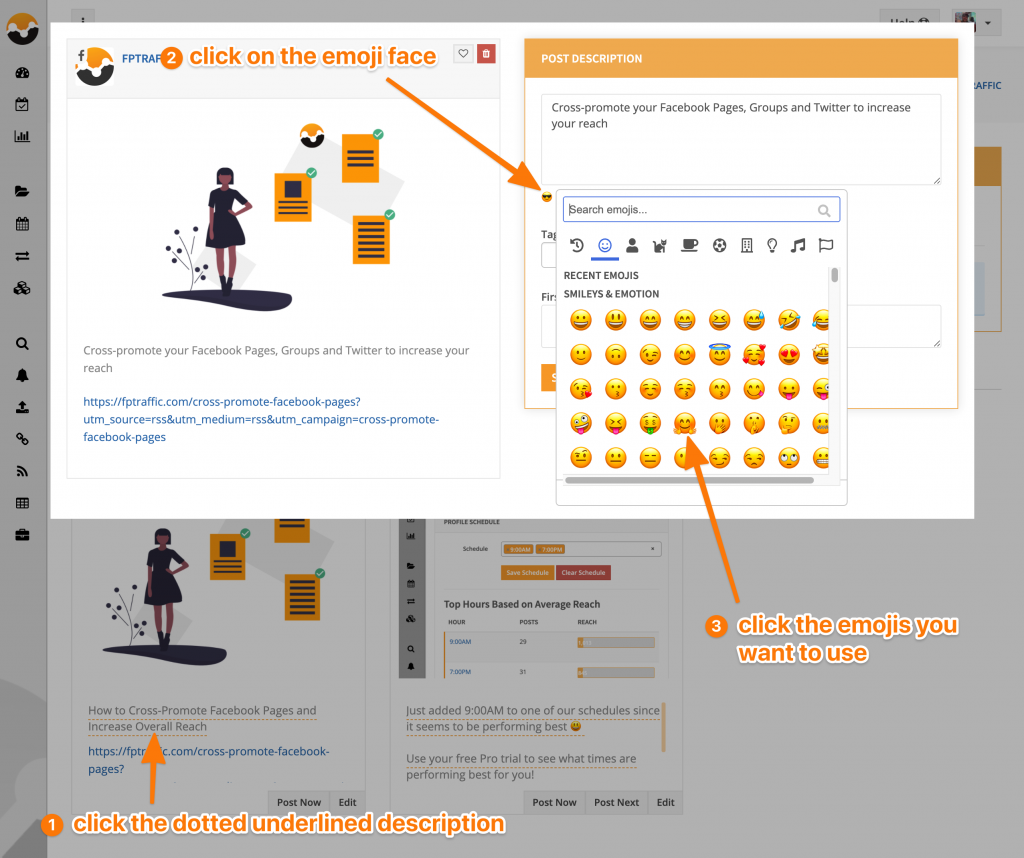 Once you edited the description and first comment to add your emojis, make sure you click Save Post.
Emoji Keyboard Extension
Another quick option for adding these characters to your posts is to install the Emoji Keyboard Extension for Google Chrome.
This allows you to search for the emoji you want, then copy and paste it right into the description box for your scheduled post.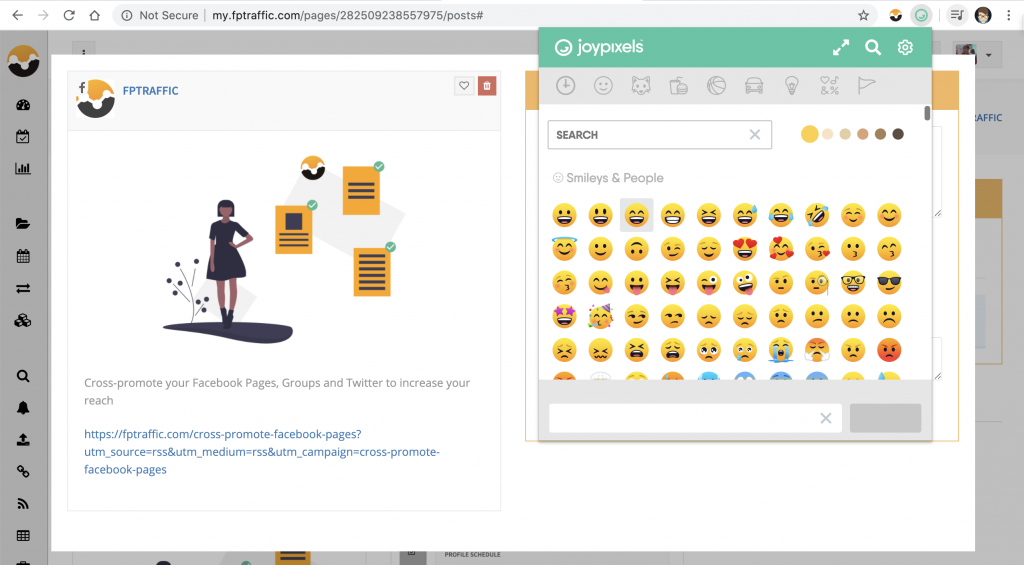 Emoji Keyword is by far the best Emoji Chrome extension we've been able to find and we use it daily 😃
Tips for Using Emojis in Facebook Posts
Emojis are great for boosting engagement, but only when you use them effectively. Keep these tips in mind when adding emojis to your posts:
Learn the emoji language. Get familiar with the emoji characters so that you know what is available before beginning your search. Emojipedia is a great resource for Emoji 101, containing insights into the most popular emojis across the categories as well as the hot emoji news and trends. 😉
Choose relevant emojis. The more relevant your emoji is to your post, your page and your brand as a whole, the higher engagement levels you'll see.
Communicate meaning. If you communicate with emojis in a real way, you give your Facebook Page more personality, authenticity and human quality.
Respond with emojis. Instead of simply "liking" fans' comments on your page, use emojis to communicate more personally with them.
Adding an emoji to your social media posts is a quick, easy way to increase your content's engagement. Get familiar with the characters and use them to your advantage. Your fans and audience will likely appreciate the friendly faces associated with your messages. 🙂
What's your favorite emoji? What do you use the most often for your social media posts? Let us know in the Comments section!