Did you know that you can create a page on LinkedIn for your company? It's a great way to get your company exposure on the massive LinkedIn platform!
In this article, we'll explain what company pages on LinkedIn are, the benefits of having one, and how you can create one for your company!
What are company pages on LinkedIn?
LinkedIn company pages are business profiles for companies. They can be created by the company's marketing and/or social media manager, and allow an organization to grow its online presence on LinkedIn.
Company pages also allow you to interact with your target audience more easily, as well as strengthen your brand identity on LinkedIn. You can use a company page just like you would a typical LinkedIn profile, except that company pages allow for more branding and customization of your page.
How does a LinkedIn company pages benefit you?
Company pages on LinkedIn provide many benefits to both people working at the company, as well as their customers or clients. Here are just a few…
Company pages help create brand awareness on LinkedIn.
Company pages can help you grow your network.
You can easily share company updates on your page to keep people in the loop about what's going on with your business.
Here is an example of the FPTraffic company page on LinkedIn. Follow us 👍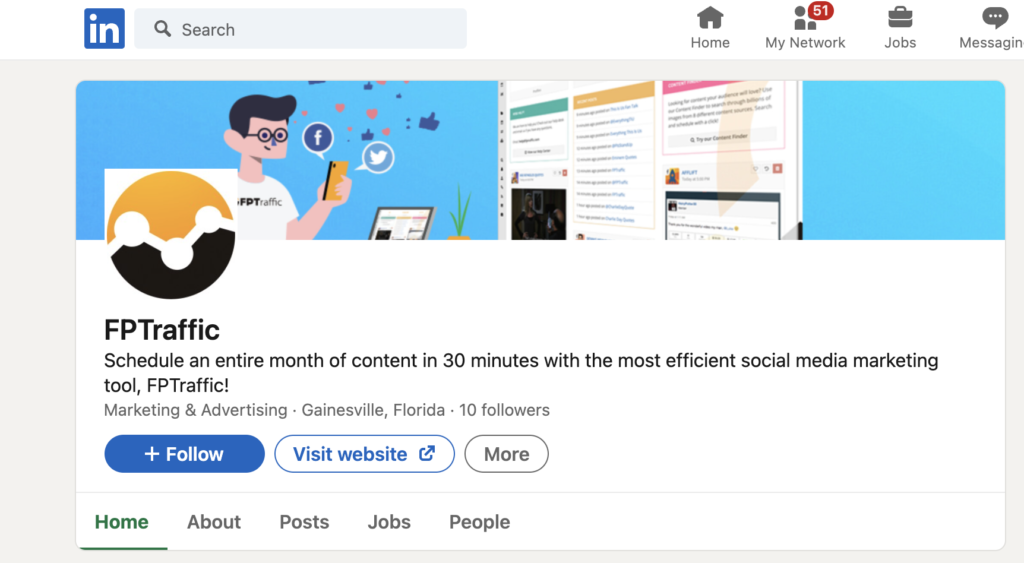 (https://www.linkedin.com/company/fptraffic/)
How to create a company page on LinkedIn
Creating a company page is easy! Just follow these steps, and you'll have your company's name represented on LinkedIn in no time!
1. Go to the LinkedIn homepage, and click Companies at the top of the page.
2. Click Add a Company from the drop-down menu that appears, then enter your company information exactly how it should appear. Be sure to include all information from your company's website, as well as any industry related terms.
3. Complete the Company Overview by filling in your company's mission statement and what you do. Be sure to include a call-to-action for visitors to take next! For example, if the page is for a marketing position at a company, you can have a blurb describing what the company does and then say to check out your LinkedIn profile or contact you.
4. Click Finish once you've filled in all the required information! Now that your company page has been created, you can edit any of the information on it by going back into your account. You can also add a cover photo and a company description!
That's all it takes to create a company page on LinkedIn! Creating one will allow you and your company to take advantage of all the benefits that come along with it, including increased brand awareness and networking. Be sure to follow these steps precisely in order to have your company represented correctly!