Want to schedule LinkedIn posts?
Finding and scheduling content to post to your LinkedIn is easy with FPTraffic. You can schedule content to post to your personal profile or any company pages on LinkedIn that you are admin of!
Connecting your LinkedIn to FPTraffic is easy and can be done in just a few simple steps.
Connect your LinkedIn to FPTraffic
Go to your Profiles page on FPTraffic.
Click the Add a Profile button.
Click on LinkedIn.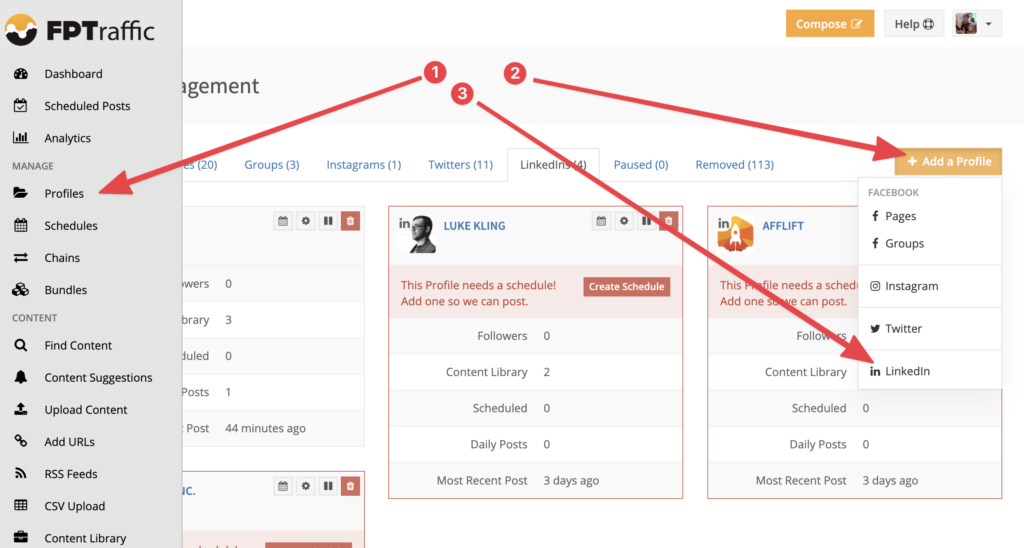 You will be asked to login to LinkedIn (if you are not already logged in) and then to allow FPTraffic access to your profiles. That's it!
Once you are taken back to FPTraffic all of your LinkedIn profiles will be automatically added to your account.
Finding Content for LinkedIn
You can use any of our content tools to find and schedule content to your LinkedIn.
You can use our Content Finder to find and schedule content from any of our 8 content sources with billions of images and links.
You can schedule links, upload images, add RSS feeds, chain your Profiles together, or use any of the other awesome features on FPTraffic that make it the most efficient social media scheduling tool for LinkedIn available 😃
What are you waiting for? Connect your LinkedIn today and start scheduling content to take advantage of their massive social media audience.