Do you get tons of Likes and engagement on your personal Facebook posts? Do you wish your Facebook friends could see all of your Facebook Page's posts?
While using your personal Facebook profile specifically for commercial purposes is against the site's rules, there are still ways you can attract Facebook friends to your Page through your personal profile.
Here are a few strategies to implement to boost your Facebook Page from your individual profile.
Add your Facebook business Page to your "Work" section
Whether you work for yourself or an employer, use your business's Facebook Page as your "workplace" in your personal profile.
From your personal profile, in the cover photo, click Edit Profile.
Scroll down to the Work section and either click Add a Workplace or click the Edit icon next to your current workplace.
Begin typing the business into the text box and the Facebook Page should come up. If you're having no luck, type in your exact Page name.
Enter the additional details.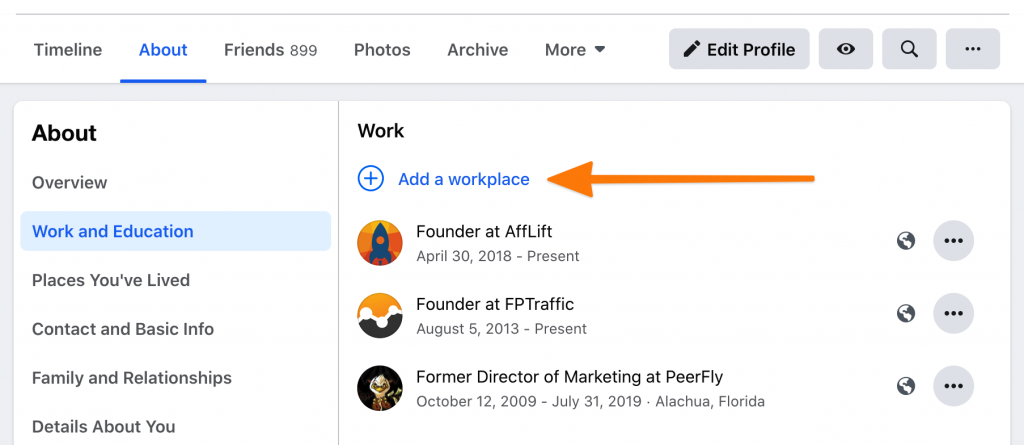 You may also want to add your Facebook Page as a website in the Contact and Basic Info section.
Add "Pages You Manage"
List any Fan Pages or Business Pages you run right on your personal profile.
UPDATE: It appears Facebook has removed this feature.
On the left-hand side in the Intro section, you'll see a link to add the Pages you manage.
Click the Edit icon, then click the check marks for any Pages you'd like to add to your profile.
Click Save.
If you want to share personal updates with customers without adding them all as friends, consider adding a Follow button to your profile. When a user chooses to follow your personal profile, they will see posts you mark as Public in their News Feeds. You can use this to filter updates that go out to your friends between updates pertinent to business that you're more comfortable sharing to the public.
From your personal Timeline, go to your Timeline settings ("…" icon on your profile > Timeline Settings).
In the left-hand menu, click Public Posts.
Where it says Who Can Follow Me, click the dropdown and select Public. You can then set your preferences for whether followers can comment on your posts.
Create custom lists to promote business posts to friends
Facebook has a custom list feature that allows you to target your status updates to customized groups of your friends. Use these to share events and news happening in your industry with a portion of your friends list who you know can benefit from this information. Avoid entirely promotional posts for custom lists.
From your Home page, on the left-hand side, click Friend Lists.
Click Create List.
Enter a name for the list. Example: "Blog Readers," "Current Customers"
Enter the names of the people you want to add to this list in the Members section.
Click Create.
Those lists will appear in your home page's sidebar. When you click on a Friend List, you can easily see, comment and interact with posts from people in those lists.
Get Personal With Your Facebook Page
Remember, you cannot use your personal profile for commercial purposes, but there are plenty of ways to still promote your Facebook Page through your own Timeline. Implement the tips listed here to let more of your friends see all the value you have to offer on your Facebook Page.
Do you use your personal profile to promote your Facebook Page? Let us know your best tips by leaving a comment!