Managing a Facebook Page with a massive fan base is a big task for one person. You might have enjoyed finding and scheduling content to grow your audience, but maybe you find the task of analyzing your insights to be overwhelming.
Why not collaborate with people who are gifted in the areas you lack expertise in?
Facebook allows Pages to be operated as a team effort, so you can let others manage the aspects that naturally interest them. Utilize the 6 Facebook Page roles to manage your Page with others.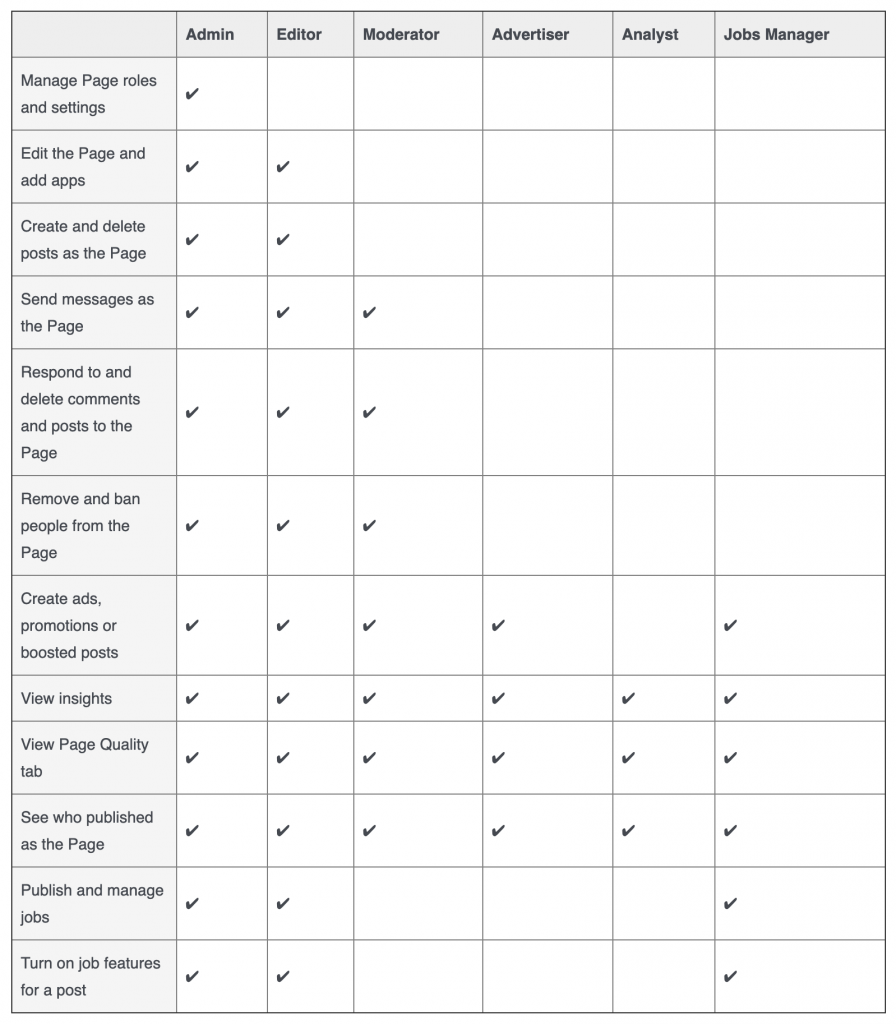 Facebook Help Center: https://www.facebook.com/help/289207354498410
The 6 Facebook Page Roles Explained
When you create a Facebook Page, you have the ability to assign an unlimited number of people to fill different roles. Here's a brief explanation of the 6 Page roles:
Admin
The person who creates the Facebook Page automatically becomes an admin. You can assign others to be admins as well. Only admins can change how the Page looks and publish as the Page. In addition, only the admins can assign roles and changes others' roles.
Page admins have the power to:
Edit the Page and ad apps to it
Create and delete posts as the Page
Go live as the Page from a mobile device
Send messages as the Page
Respond to and delete comments
Remove and ban people from the Page
Create ads
View the Page Insights
We recommend making at least one other person you trust (a family member or friend) admin on your Facebook Page. If for some reason you are unable to access your Facebook account, that person would still have access to your Page and could make you admin on a new Facebook account if necessary (and remove your old account).
Editor
Those who you assign to be an editor of your Page can do everything the admins can do with the exception of managing the Page roles and Settings.
Moderator
The Page moderator is simply able to moderate what happens on a Page after content has been posted, promote the Page and analyze the Insights. The moderator cannot create posts, edit a Page or go live.
Advertiser
The advertiser has the ability to create ads, view Insights and see who has published as the Page.
Analyst
Assign an analyst to help you discover your Page's most popular posts and when your fans are online. Analysts' only capabilities are to view the Page Insights tabs and see who has published as the Page.
Live contributor
This role's only capability is to go live on your Facebook Page.
As an admin, you can assign, delete and change roles at any time from your Page Settings.
How to Assign Roles on Your Facebook Page
Facebook allows you to assign the 6 roles to an unlimited number of people. The only requirement is that each individual has their own Facebook account. To assign a role, complete the following steps:
From your Facebook Page, click Settings in the top right corner.
On the left column, click Page Roles.

To assign a new role, enter a person's name or email address in the text box. If the person is a Facebook friend, the name should pop up. Click the Editor dropdown to click which role you'd like to assign the person to. You can also edit the existing roles below.
Click Save. Then you'll be prompted to re-enter your password for security purposes.
Collaborate Using FPTraffic
If you are collaborating on your Facebook Page, you can also work with others to manage your Page in FPTraffic. Each user needs to have their own FPTraffic account. When you assign someone as an Admin or Editor role, the Facebook Page will appear in their FPTraffic account.
Those users will have the same abilities as you to find and schedule content, update your post schedule, and everything else you can do with your FPTraffic account for that Profile.
Use FPTraffic Teams (No Page Role Needed!)
We have a feature on FPTraffic that allows you to create a Team to help manage your Profiles. By using our Team feature, you do not need to grant the team member access to your Page by creating a Page Role for them anymore.

Instead, you can create a Team on FPTraffic and assign the new team members access to any of your Profiles (Facebook Pages, Groups, or Twitter accounts) through FPTraffic.
You can also optionally pay for the team member's membership to FPTraffic. This is common for members who hire virtual assistants to help them with managing their Profiles.
Let our team know if you have any questions or need assistance 🙂
Do you assign roles for your Page? How do you work with others to make your Facebook Page awesome? Let us know by leaving a comment!