Do you want to make money from your Facebook Page? One of the best ways to monetize your Facebook fans is to create a blog.
A blog basically serves as a channel that funnels traffic from your Facebook Pages to a website. After building up traffic for your Facebook Page with ads and valuable content, posting content from your blog will drive those fans to your website. Adding monetization to that website will generate revenue.
Setting up a blog can be as simple as creating a Facebook Page. Keep reading to learn how to create and monetize a blog for your Facebook Page.
How to Create a Blog for Your Facebook Page
First, you'll need a domain name for your blog. You'll want to keep it similar to the name of your Facebook Page or as close to it as possible. You can get a domain name for cheap with GoDaddy.com or Name.com.
Then you'll need to set up hosting. Host providers provide space on their server for your blog to live. We recommend DigitalOcean.
Finally, you need a platform to build content on. WordPress is a free content management system (we use it for this blog!) where you can create posts to share on your Facebook Pages. It's easy to use and has plenty of great plugins and themes to choose from. You can install WordPress on your DigitalOcean hosting with a click of your mouse.
Since the majority of people use their phones to consume social media, you want to find a WordPress theme that is mobile-optimized. This ensures that your blog looks good and is easy to read on a cell phone.
Create Valuable Content
Much like your Facebook Page, your blog needs to be packed with valuable content your fans will resonate with. Content is what draws visitors in and keeps them engaged. Keep in mind that social media users are looking for entertaining content that they can digest quickly. Images, video and scannable content like list posts work great.
Create shareable content with attention-grabbing headlines and images. The headlines and images are what will draw people in from Facebook; valuable content will keep them on your blog. Lists are great to capture fans' attention and keep them engaged. Check out the itsalways.com blog for an example of an engaging list post.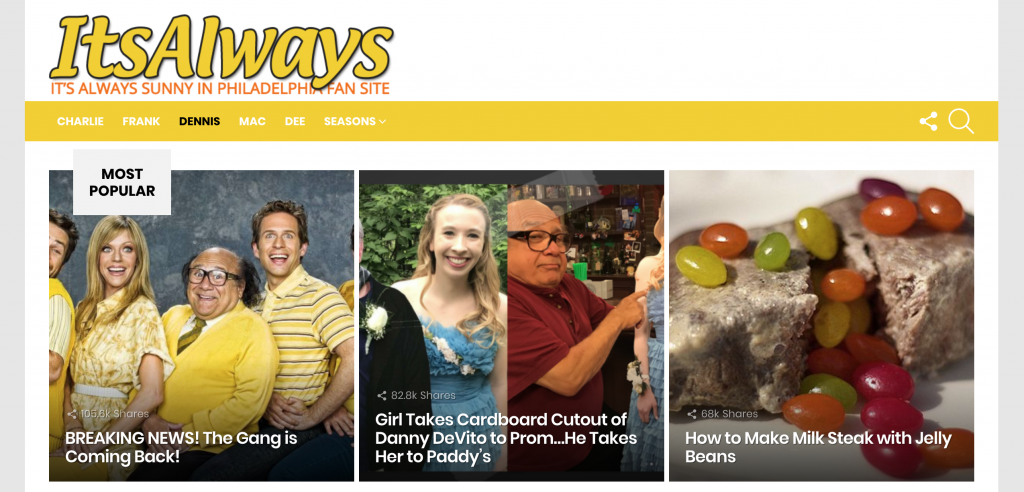 Experiment with creating your own content – this tool will help you generate ideas for what is most shared in your niche. If your Page has been up for a while, you can use curated content from posts that are going viral on Facebook.
How to Monetize Your Blog
Once you have enough traffic from Facebook funneling to your blog, you can monetize your website to start earning income from those visitors. There are a few ways to do this:
Pay Per Click (PPC)
You can set up an account with a service like Google AdSense to post ads on your blog. Payment is based on how many clicks you get to your ads.
Affiliate Links
Sign up for an affiliate program –  like Amazon Associates – to advertise products for another company. You'll add an affiliate link to your content which contains a tracking ID so you get paid for traffic you send to the advertiser's website.
You can also use affiliate networks like ShareASale to find products in your niche to promote on your Facebook Page and blog.
Use the FPTraffic RSS Tool
Once you start posting valuable content on your blog, connect your RSS feed with the FPTraffic RSS tool to automatically post to your Facebook Fan Page and any other social media profile you have setup (use Chains to make it really easy).
We recommend posting your blog content to your Facebook Page only once per day in addition to the other content you have scheduled with FPTraffic. You don't want to spam your audience with monetized links. The goal is to keep them engaged.

Creating a blog is a great way to generate revenue from your Facebook Page. Add valuable, shareable content that will grab readers attention, and sign up for an affiliate program to earn some income. Combine these tactics with a niche you're passionate about and you're sure to like the results.
WordPress Posts Automatically to Facebook Page
Do you want to easily funnel traffic from your Facebook Page to your monetized blog? Use the FPTraffic RSS tool to automatically schedule your blog posts to your Facebook Page!
Try it for free today
.
Do you have a blog for your Facebook Page? What kind of results are you seeing from Facebook traffic? Let us know by leaving a comment!