Getting as much engagement as possible on each and every single one of your social media marketing posts, no matter which site you are posting on, is the goal…right?
That is a large task to undertake. But, with FPTraffic, it does become easier. Our tool is created specifically to help you do it.
Here are some tips you can use when posting with FPTraffic to Facebook, Instagram, Twitter, LinkedIn, or Pinterest that will help you get as much engagement as possible!
Add the First Comment to Every Post
Our data from every single post published by FPTraffic over the past few years is undeniable. The #1 tip (and best way) to increase post engagement using FPTraffic is to use our First Comment feature.
The First Comment feature works by allowing you to add the first comment or reply to any post you publish on FPTraffic.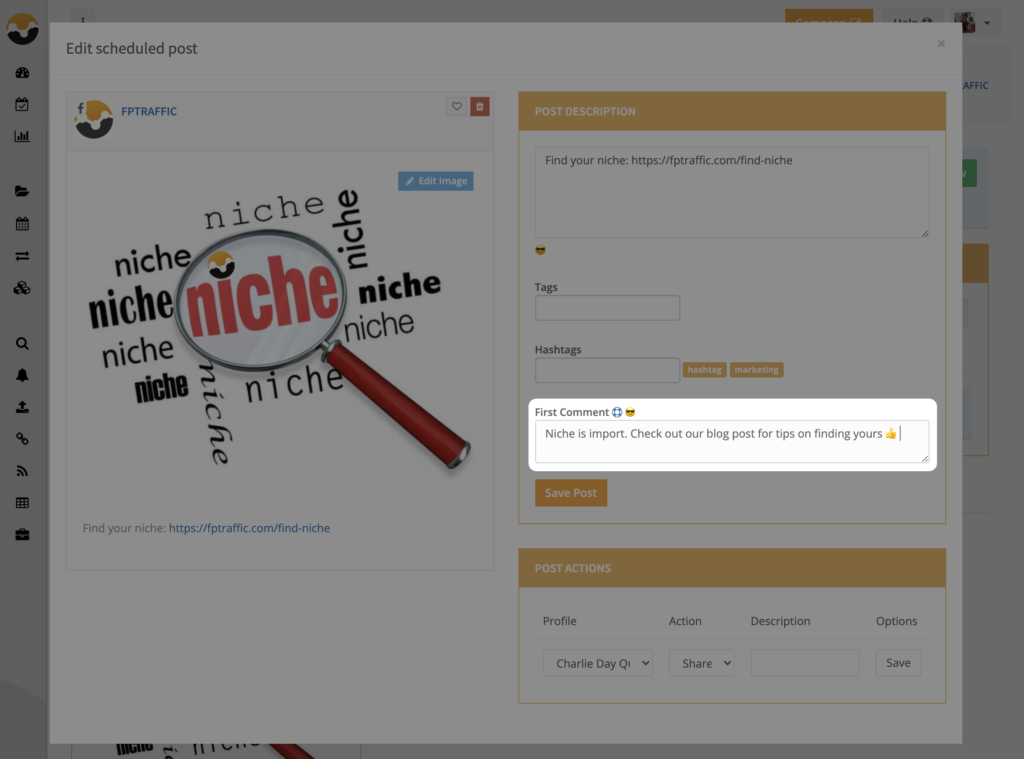 For whatever reason, this seems to spark engagement on posts because posts published by FPTraffic in 2021 saw a 203.06% increase in impressions on Facebook, a 65% increase on Instagram, and a 157% increase on Twitter.
Our theory is that people don't like to be the first to do something. So, by creating the First Comment, you are immediately encouraging others to participate in the discussion.
You can create your First Comment to come from your other Profiles on the same platform.
You can find more information on our help document here:
https://help.fptraffic.com/article/22-making-the-first-comment-on-your-posts
Try it out on some of your Scheduled Posts and see for yourself!
Post at 3pm
Okay, so maybe you do not need to post at 3pm central time every single day, but we have found that is the best time to post if you want to get the most engagement and impressions possible.
We collected data from the millions of posts published by FPTraffic in 2021 and 3pm is the best time to post.
But, FPTraffic users can actually see the performance of each hour of every day for themselves to find out what the best time to post is for their specific Profiles!
If you have a new Profile with no data, I recommend including 3pm in your post schedule! 😃
Use the Best Content Source
Our Content Finder currently supports 8 different sources and those sources give you access to billions of images that you can automatically schedule and post to your social media profiles using FPTraffic.
But, which Content Source is best for you?
While the content that performs best varies based on niche, we do have a pretty good idea based on the millions of posts published by FPTraffic of which sources produce the best results based on the platform being posted to.
Here is the breakdown:
Tumblr content works best on Instagram, but terrible on Twitter.
Bing content works best on Facebook Pages, but also bad on Twitter.
YouTube content works great on Twitter and Instagram.
Reddit content works great on all platforms, but best on Facebook Pages.
Amazon content works best on Facebook Pages but not great on Instagram.
eBay only performs well on Pages. It may also work okay on Pinterest.
Interestingly, RSS feed links do better on Facebook and Twitter.
We do not have much data for Pinterest or LinkedIn because we cannot automatically track performance, but it's safe to say unique images will work well on both of those platforms based on our own internal tests.
Test out our Content Finder and we'll track the performance for your searches and content so you can see what is performing best for you!
Try FPTraffic for FREE!?!?!???
Sign up for FPTraffic today
to try out our tools to help increase your engagement on Facebook, Twitter, Instagram, Pinterest, or LinkedIn and use our free 2-week trial to see for yourself how well it works!
Are you using our First Comment, Scheduler, and Content Finder to increase the engagement on your social media posts? Tell us about it in the comments below!