We all want our content to be seen by as many users as possible. Whether you're looking for click-throughs to a monetized website or to convert prospects into customers, the higher reach your Facebook Page has the better results you'll see.
One way to organically increase your reach is to cross-promote multiple Pages in the same niche.
Sure, you already put a lot of work into your one Fan Page or Business Page, so why would you want to make more Pages like the one you have? Keep reading to learn how cross-promoting multiple Pages can dramatically increase your numbers.
Create Multiple Pages in Your Niche
Why go through the trouble of making more Facebook Pages? Cross-promoting creates a huge opportunity to expand in your niche.
Facebook doesn't display the posts for your Facebook Page to your entire audience. Instead, they pick and choose who to display your posts to. By building up multiple Pages in the same niche, you're giving yourself more opportunity to reach your audience.
Here are a few more reasons to create multiple Pages in your niche:
Creating a Facebook Page is free and takes only minutes to do.
With FPTraffic, you can save tons of time by automating your posting schedule.
The more people you reach with your content the better results you'll see from monetizing your Page(s).
Use Audience Insights to Determine Which Pages to Create
For some Pages, it'll be clear to you how to branch off and create multiple Pages in the niche. For example, if you have a fan Page based on a popular TV show, you can create separate Pages for each major character and cross-promote that way.
The best way to branch out isn't always that clear to see. In those cases, use the Audience Insights tool to see what Pages your existing Page audience is most likely to follow. This will help you determine which Pages to create around your original Page.
From your Facebook account, access Ads Manager.
From the Facebook Ads menu, click Audience Insights.
When the prompt asks, Choose an Audience to Start, click People connected to your Page.

In the left sidebar, select the Page you'd like to use to guide your results.
In the top menu, click Page Likes.

Build up Pages around the the ones with the highest affinity scores and it will be easier to cross-promote.
How to Cross-Promote Pages in FPTraffic
From your original Facebook Page, link out to the other Pages you've created in your niche. People who like your original Page are likely to like the Page that you share as well.
Copy the URL to the content from your Page.

From the Content menu in your FPTraffic dashboard, click Add URLs.
Select the Profiles you'd like to share the content on. Paste the URL into the box and click Schedule URLs!

The shared link will be added to your Page's queue and will automatically post when its time comes around. Find the link in your queue and add a text description and first comment to increase engagement.
When the link is posted to FPTraffic, it will show the content from your original Page with a note linking to the original Page.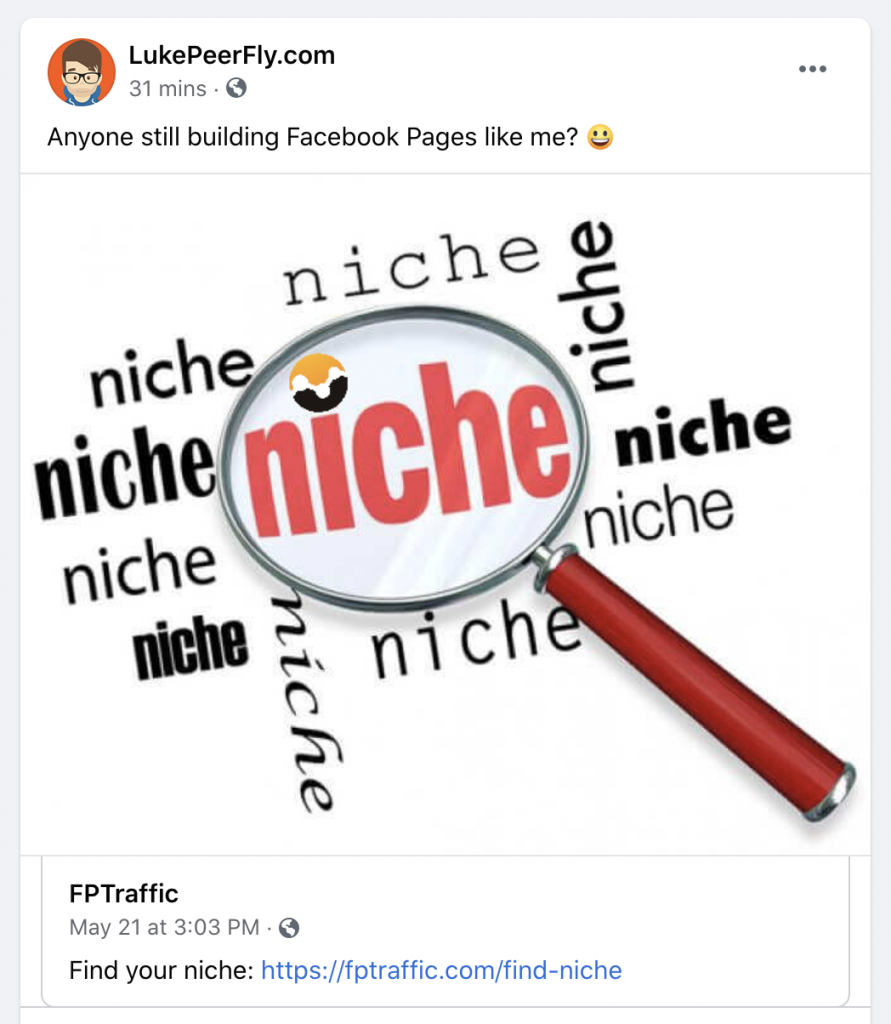 Increase Your Reach
FPTraffic members are seeing great results from cross-promoting Facebook Pages. Typically, you should see an improvement in your stats after cross-promoting Pages.
You can do the same thing with cross-promoting Facebook Pages and Facebook Groups.
You can then reach those new fans even more with cross-promotions!
While paying for Likes is a great way to build an audience, you want to do all you can to organically increase your overall reach. Create multiple Pages to expand in your niche, and cross-promote those Pages to reach more users.
Unlimited Pages to Cross-Promote With...
You can manage an UNLIMITED amount of Facebook Pages using FPTraffic Get started today with our
free 2-week trial
.
Do you cross-promote multiple Facebook Pages? How has it helped improve your Page? Let us know by leaving a comment! Questions? Join our Facebook Group!